This is a story worth telling.  It's a story worth hearing.  It's a life-altering, tear-jerking, heart-breaking kind of a story.  It is almost unbelievable.  I could understand if you doubted my honesty, if you assumed I took artistic liberties or gave in to my tendency for the dramatic and embellished the details.  If I were listening to it I'm sure I might wonder the same.  But I know every word is true, because this story is mine.   
It was August, but the weather made that hard to believe.  The sun was deceiving, the wind had an autumn bite to it, despite the calendar saying there was still a few weeks of summer left.  It was the kind of weather that left you unprepared and underdressed.  I had driven from my home in Calgary to nearby Cochrane, happily enjoying the sun's warmth from the safety of my little car.  Loaded in the back was my big old Roland stage piano, ready to be played while I sang my songs on a little stage at a Christian music festival.  
I was nervous, though not as much about the performance as I was about getting out there and finding my way.  As with many (if not most) things in my life at the time, I was going alone.  Sometimes this was my preference, sometimes not, but so it goes.  The performance was pretty low pressure - only a 30 minute set, and on the tiny "Indie Stage", where people tended to only pass by on their way to food trucks or washrooms or to head back to the parking lot.   
Truthfully, I was happy just to be there.  Months earlier I had come across a contest posting somewhere in my internet wandering and decided I had nothing to lose by entering.  Entrants submitted a video of themselves performing an original song and a video explaining why they were entering.  Twenty would be chosen for the first round, during which members of the public could vote online for their favourite.  From there, the top ten would move on to a live final, competing for the prize of playing on the festival main stage.   
I had been working away at my little music career for a while, and was in the middle of recording my second album.  I had made big life changes to make room for pursuing music - changing the schedule at my job to lower the demands and create more space, even moving to a cheaper place to make up for the smaller pay cheque.  I had been working hard and was focused, motivated, and even more than that, I truly loved (and still do) the process of creating music and sharing it.  
I was delighted to do extremely well in the online voting (thanks to supportive family and friends) and easily advanced to the final.  I formed a fantastic little band made up of myself and four friends, affectionately called "Sara-Mae and the Fanny Packs".  We only got together and rehearsed once and had so much fun, I went home with sore abs from all the laughter.  Musically, we seemed to click quickly and easily.  As much as I can be a lone wolf - in music and in life - there is nothing quite like the joy of playing with a great band.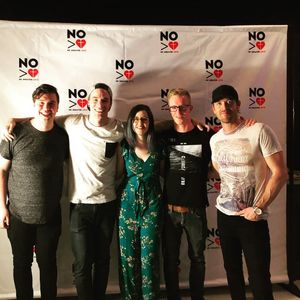 The time came for the finals and life was crazy.  I had made a commitment to lead worship for a weekend conference before knowing the date of the competition or even that I would advance to the finals.  I also happened to have my big Spring Concert at the school where I taught right then as well.  I was overwhelmed and stressed out, but excited and ready to take on the world!  My school concert went great, the worship at the conference was going great, and the finals had arrived.  I had so much fun with my band, both on and off stage.  I was proud of my performance and how I handled some frustrating technical glitches that were beyond my control.  It didn't really matter that I didn't win.  Looking back, I'm not sure I would have been up to the challenge of a main stage performance anyway.  But I was truly grateful for the experience.  I shifted my focus to recovering from a crazy season, and the planning of the album I was about to start working on. 
A couple months later, I got a message asking me if I would be interested in performing on the indie stage at the festival.  I was thrilled to accept and marvelled at how God was still opening a little door for me, even though I hadn't won the competition.  Though the town where the festival was taking place was not far from where I lived, I decided to take advantage of my free festival admission and make a mini holiday of it. I performed on Saturday afternoon, enjoyed an evening of fantastic music and delicious food truck meals, made new friends, ran into old ones, and had a great time.  I had booked a hotel in Cochrane and planned to come and take in more music on the second day of the festival before heading home.  
When I arrived on that surprisingly chilly August day, I had no idea where to go or who to ask, so I wandered around until I found someone who could help me.  I explained why I was there and they also didn't know where I should be.  They gave me an Artist Access pass (which I wasn't supposed to get) and drove me around in a golf cart until we found the indie stage and the gate where I could drive up and unload my piano.  Having gotten my bearings, I could relax, so I went to watch the band that had won the competition perform their set on the main stage.   
As my set time drew near, I headed back to my car and pulled up to where the security guy had told me to go.  Just as I got out of the car and went to unload, he came to tell me that his shift was over and that the man taking over at this gate would be able to answer any questions I might have.  He motioned to the man walking toward us and as cliched and cheesy as it sounds, I swear my heart skipped a beat or two.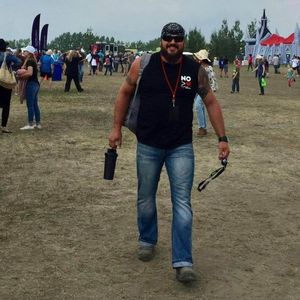 He walked right up to me, looking me in the eyes, big smile spread across his face.  His brown eyes positively sparkled and for a moment I think I forgot where I was and what I was doing and possibly even my own name.  It was a feeling I had never experienced before and at the risk of sounding immature or ridiculous, it was magical.  "I'm Ben" he said, shaking my hand and still smiling at me.