Oh friends...preparing this chapter has got me feeling all the feels... even though this is my own real life story, I still can't quite believe that all of this actually happened.  I hope you have had the chance to read through the first 11 chapters before continuing, and check out some song links at the end of today's post.  I would also love to invite you to join my email list if you have not already, as I have some "Letters to Ben" things coming up and would love for you to be a part of them! My email list is the very best way to stay in the loop.  Drop me a line at hello@saramaedafoe.com and I will add you!  Ok...get comfy and enjoy today's chapter!
Immediately after Ben's Mom and Sister picked me up from the airport, the three of us went to have an early dinner.  Knowing that the weekend would be pretty jam-packed, they knew this would likely be the only chance I would have to sit down with Ben's Mom.  I would see her throughout the weekend but with all the details of the memorial and all the other guests, we wouldn't have the chance to really talk and get to know each other.  I really appreciated that they had planned this and was delighted to have the chance to sit and get to know the two of them so soon in the weekend.  I had gone there really having no idea what to expect.  I was prepared to spend a lot of quiet time tucked away from everyone and out of the way, basically hitching a ride to the memorial and back.  That wasn't what I wanted, but I didn't want to go with unrealistic expectations or put unreasonable demands on anyone's time. 
Dinner was great.  I felt completely welcomed and accepted immediately.  We clicked right away, sharing stories and so many laughs.  I'm sure there were tears too, and they shared more details of the accident and the time leading up to it also.   Then we headed to Ben's parent's place, which was where the memorial would be taking place the next day.  I met Ben's brother and his family.  Then Ben's Dad started to come up the stairs.  We locked eyes when he was about halfway up and I think both of us started to tear up immediately.  He grabbed me in a big, emotional hug and said "It's just so amazing that you're here".  I am sure I was too overcome with emotion to respond coherently but what I felt in that moment was "It's just so amazing to be so welcomed." 
We all sat down and were chatting in the living room.  Looking out to the backyard, Ben's Mom showed me the beautiful pergola that Ben had built for her.  We chatted and laughed, shared some stories and shed some tears.  A few family members and friends came and went during that time and I was happy to meet them all.  It all felt so natural, despite the fact that it was kind of a crazy situation.  At no point did I feel awkward or out of place.  I felt like I was being welcomed into their family.  
At some point the conversation turned to the service that would be taking place the next day.  A program had been made and my name had been included in the hopes that I would sing a song.  When we had talked prior to my arrival, they had made it clear that they wanted me to share a song but that there was no pressure.  I told them I would love to but I didn't know if I would be able to handle all the emotion of the weekend and physically be able to sing for them. They had another musician friend of the family who was going to be at the service and was playing some songs as well.  They got him on the phone so that he and I could talk about possibly working together.  I felt good about just waiting to see how I was feeling and trusting in my own abilities enough to know that I could pull something together if it worked out.  
After a little while, we left to head back to Ben's sister's house where I would be staying and would finally get to meet her husband and their three children.  Ben had told me about them and I even remember the photos he sent me from when they had gone to visit him in BC the previous fall.  That was right when we were starting to spend more time talking to each other.  He was so excited that they were coming to see him and if I remember correctly, they surprised him by coming a day early so they could spend more time together.  He was positively beaming in the photos he sent.  I was excited to meet them. 
It didn't take too long before the kids warmed up to me and we were all laughing and teasing each other as if we hadn't just met.  It was incredible just how right Ben had been about how well I would fit in with his family!  Somehow time seemed to slow down.  Though I had only arrived a few hours earlier, it felt like I had already spent more time with everyone.  I was so comfortable and at ease. 
I had noticed that the physical anxiety symptoms I had been dealing with for months had not been present after I arrived on Friday.  I went to bed that night in Ben's niece's bedroom realizing that for the first time in a very long time, I had gone almost a whole day without feeling dizzy and nauseous.  I was exhausted and emotional, but not anxious.  We had stayed up quite late talking and sharing and finally figured we should get to bed.  The next day was bound to be even more emotional and we all needed to rest. 
  The next morning we took it slow around the house for a while, before it was time to start getting ready to head to the house for the memorial.  I definitely felt a little nervous because I so badly wanted to sing but really didn't know if I could manage.  We got to their house early to help with set up and preparations for the memorial.  There was going to be an informal greeting time so that people arriving could have a chance to say hello to the family.  Stephen, the other musician was planning to play worship music during this time and had invited me to join him.  I decided that even though I felt overcome with my own emotion, this was exactly the kind of moment I was made for.  God gave me the gift of music to be a blessing to others and that was the main reason I had chosen to come to Ontario.  If there was some way I could be a comfort to Ben's family, I wanted to make sure I was there.   
Singing worship songs with Stephen was exactly what my heart needed in that moment.  The lyrics we sang resonated deep within me.  When the tears came, it was okay.  Stephen was fantastic - a great musician and so understanding.  Though people were listening, the focus was not on us.  It was not a performance at all.  Ben's family wanted us to set the atmosphere for the day as people arrived.  This hour or so that we switched off playing Stephen's guitar and singing songs together was incredibly soothing to my broken heart.  We did a song called "Reckless Love" and I sang it with my whole heart, marvelling at how perfect the lyrics were on a day meant for honouring Ben.   
Oh, the overwhelming, never-ending reckless love of God 
Oh, it chases me down, fights 'til I'm found, leaves the ninety-nine 
I couldn't earn it, I don't deserve it, still you give yourself away 
Oh, the overwhelming, never-ending reckless love of God 
When it was time for the service to begin, I decided that I had nothing to lose and that I would sing one of my songs like the family had requested.  I had been so incredibly humbled to learn that my album had been so important to Ben and to his family.  Even if I completely fell apart and sounded terrible, it would still be honouring Ben.  This wasn't about me or how I looked or sounded.   
I borrowed Stephen's guitar and sang my song "You'll Never Give Up On Me" while he beautifully accompanied me on his violin.  I was so,so grateful to not be doing it alone in that moment.  I was definitely shaky and even people who had never heard me sing could most certainly hear the emotion in my voice as I sang "but you Lord are patient, you are kind.  You'll never leave, you'll never give up on me, you patiently tend every part of me".  Again I was so struck by how well the songs were telling Ben's story.  I had asked to sing right at the beginning of the program because I knew that once I heard anyone in his family speak, I would completely lose it.  And I was right.   
I stood back, listening to the stories and reflections from friends and family members and people who had known Ben so much longer than I had.  I felt so lucky to have met him, so lucky to be there and to be a part of it all.  After this more formal part of the program, everyone shared a potluck dinner.  After dinner there was music playing from speakers on the deck.  Kids were running around and playing, adults were talking and sharing stories.  There was so much laughter and joy, despite the awful circumstance that had brought us all there.  I think it was just how Ben would have wanted it.  
One of the things that had been planned was to light a sky lantern and send it into the night.  The sun had already been down for a few hours and most people had gone home.  Those who were still there gathered and the DJ started "You Say" by Lauren Daigle.  Again I was so struck by the power of music on this day.  "You say I am loved when I can't feel a thing, you say I am strong, when I think I am weak.  You say I am held when I am falling short, And when I don't belong, you say I am yours".  I remember Ben mentioning this song to me and telling me how these very lyrics affected him.  I think it was his siblings that lit the flame and sent the lantern up into the night. 
I stood there in the cold with my head back, watching this lantern fly off into the darkness with tears absolutely pouring down my face.  I remember thinking that it was going too fast.  I so badly wanted it to slow down because it felt like letting go.  I felt like once that lantern was gone from my sight, my connection to Ben wouldn't be as strong.  It was like a piece of him was getting further and further away.  I took a video of that lantern on my phone and I could not begin to guess how many times I have watched it.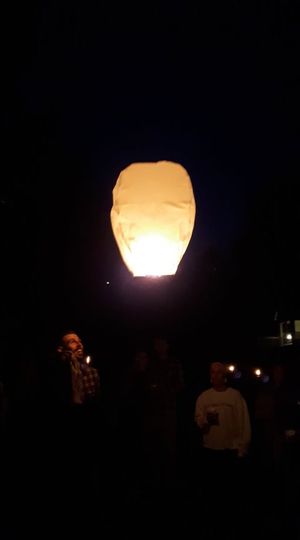 After the lantern had disappeared, Ben's brother walked over to me.  We hadn't really had much of a chance to talk when we had met the day before and certainly hadn't had the chance with the busyness of the memorial.  He just grabbed me in a big hug and we both cried and cried.  Hugging him felt a lot like hugging Ben.   
The last thing we did before leaving that night was laughing and dancing on the deck while the music was blaring.  I said a tearful goodbye to both of Ben's parents, knowing I likely wouldn't see them the next day before heading back to the airport to head home.  The kids and I piled into the SUV and laughed and joked the whole way back to the house.  The mood was light and joyful, somehow.  We visited some more once we returned to the house before everyone collapsed into bed, emotionally drained and completely exhausted.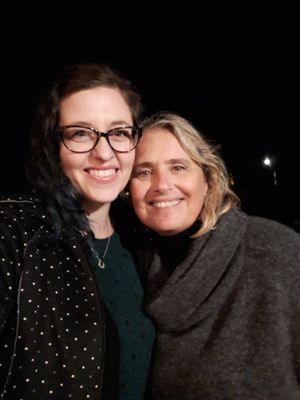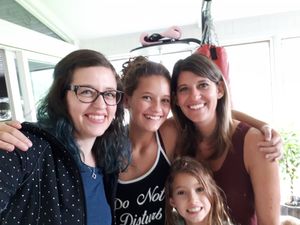 Songs from this Chapter;