I don't remember exactly when, but at some point, years ago I started to write letters to people when I had something difficult to say, or to process my thoughts and emotions in a safe and private way.  The letters I wrote occasionally ended up being like a first draft of what I ended up saying, but were never really meant to be shared with the person they were written to, and I certainly never thought I would share them with the world.  Over the years I wrote letters to people who hurt me, people who confused me, people I missed...anyone I wished I could say something to but for some reason I could not.  I have always been a journaller, but these letters lived in a totally separate notebook.  The first letters to Ben are in that notebook.   
The letters to Ben began long before he died.  In fact, I wrote my first letter to him before he and I ever shared our feelings for each other.  Then over the months that we got to be in each other's lives, my letters to him were often to work through the confusion and frustration of feeling the way I did and being unable to change the situation.  After he died, the letters became my way to remember him, to stay connected to him, and to say all the things I never said to him when he was still here.  The lyrics were taken right out of these letters and crafted into songs.   
I took another trip to visit Ben's family, about 5 months after the weekend of the memorial.  It was so great to be there again and to spend time with them.  We had so many laughs, we shared some tears, and again they made me feel completely welcomed and like I was part of the family.  It was Valentine's Day when I arrived and I absolutely loved spending the evening with Ben's nieces and nephew while his sister and brother in law got to enjoy a night out.  We called it "Palentine's" and had so much fun together!  I was there for a few more days that were filled with fun, games, heart to hearts, shopping, raccoon watching, and even my first trip to Niagara Falls!  I am so glad I went when I did, because shortly after that fantastic visit, everything shut down because of Covid.  I had to choose between going in February or waiting until my Spring Break a little over a month after that, and I definitely made the right decision!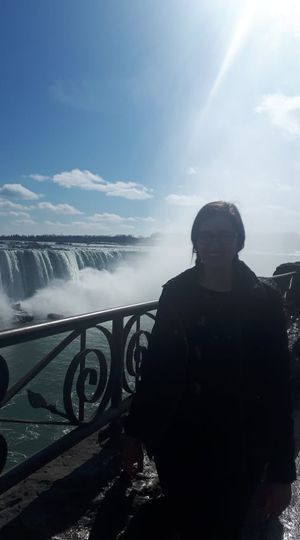 I vividly remember one night on this visit, going away from the rest of the family with Ben's sister so that I could play a rough little recording of one of the songs for her on my iPad.  I was beginning to wrestle with the idea of professionally recording my songs and wanted to know what she thought and if she would be okay with it.  At that point I think I had three songs either written or in the works but didn't really know what the final thing would look like.  We sat side by side on the bed, listening to this crappy recording with tears streaming down our faces.  She was incredibly supportive and encouraging right from the start, along with the rest of the family.   
I hadn't really planned to make this EP.  When I started to consider recording the songs, at first it felt like a very strange thing to do, almost like it was wrong.  When I had written five songs (one that did not end up on the EP), I remember having a conversation with Steve, my Producer and good friend.  I told him that I had these songs and that I kind of wanted to record them, but I had all these reservations.  I didn't want to turn the loss of this beautiful person into a project or try to capitalize on what happened.  I fumbled my way through all these thoughts and excuses.  Steve very passionately and excitedly disagreed… and I'm so glad he did.  His eyes lit up and he was nearly jumping out of his chair saying "but THIS is ART!!!  This is what making art is all about!!!" and I knew he was right.  We talked about how meaningful it is to turn our pain and heartbreak into art, and then to connect with others by sharing that art.  That really is what it is all about.
You'll have to tune in next week for more stories and photos from the studio.  I also have a couple of things in the works that I'm excited to tell you about.  Thank you so much for reading along.  If my story has been meaningful to you and you'd like to support my art, please continue to listen to and stream my music, subscribe to my Youtube channel, follow me on social media, purchase a Letters to Ben shirt, and stay tuned for a virtual concert announcement.  If my music speaks to you, share it with someone!  Thanks friends, catch you next Friday!