If you are here reading this last chapter, I know it is because you have been following along and reading along the way.  I am pretty blown away by how many people have been reading, and completely touched by all the heartfelt connections in the form of comments and messages.  I am honoured that you have shared your time with me in this way.   
I know that many of you have continued to read  because something in the story resonated with you.  While you may not have had an experience exactly like mine with Ben, you have lost someone special.  We all have.  Loss and grief are part of the human experience.  So often we try to hide or minimize our grief and sadness.  Why do we do this?  Why is it so important for us to pretend that everything is okay and that we have it all together all the time?  Especially when we KNOW that every single person around us understands, in their own way.   
I would love to continue connecting with people even though I am done sharing this story.  I would love to hear your stories, or read your letters and maybe even share them here.  Perhaps this blog can become a place where we continue to honour those that we have lost and connect with each other in these universal human experiences of loss and grief.  If you have a story to share, send me an email at hello@saramaedafoe.com .  I would be happy to share stories with your name or anonymously.  My thoughts are still in the idea phase of what this could become, so if you have any ideas around how we could continue to connect on this platform, I would love to hear them.  
And, in the spirit of connection and even celebration, I would love to invite you to tune in on Facebook live on Sunday, October 24th at 7:30 MDT.  I have not had the chance to have any kind of "release" event for Letters to Ben like I did for my first two albums.  This will be the first time I will share all 5 songs from the EP live (virtually).  I hope you can tune in!  Follow my Music page on Facebook for reminders and so that you can easily find the event.   
Click here to go to my Facebook Music page
Enjoy the last chapter of the "Letters to Ben" story!  
When Steve and I were planning out the EP, I had 5 songs that were either complete or nearly complete.  At some point I decided to scrap the one song that I just wasn't quite feeling, but then I was left with 4 and that didn't feel right either.  I had planned to end the EP with the song "Letting You Go".  The last part of that song says; 
There's no way around the pain of letting you go 
Like losing you all over again but I have to, I know 
And though these hands will never hold yours, you still made your mark 
I promise to you you'll always be close, I'll hold you in my heart 
Click here to listen to "Letting You Go"
That sounded like a good ending to me.  Steve suggested I write another song to end the EP that had a slightly more hopeful vibe.  I fought it for a while, because I don't shy away from sadness or heartbreak, and my first priority with this project (as with any other project I've done or will do) was to be completely authentic.  Ultimately I ended up agreeing with him, accepting that it was already a very heavy collection of songs and that pointing to the beauty of the story would be a better ending.  One last letter to tell Ben that despite all the pain and my shattered heart, I knew that I would be okay.  I really struggled with that last song, but it ended up coming out just right in the end; 
So I'm picking up the pieces of this broken heart 
I'm sewing them together in a new work of art 
More beautiful than before with the colours of you 
Stitching the lessons I learned all the way through 
I wrote this letter to say -  
I'll be okay 
Click here to listen to "The Last Letter"
With the song finished and the list complete, we got to planning the recording process.  Covid threw a few wrenches in our plans as numbers went up and restrictions tightened.  We ended up getting the same band together from my first album "Flourish" (and the same guitarist from my second album "Unexpected Hallelujah"!)  They are all absolutely incredible musicians who are a complete joy to work with.  I went into those studio days knowing that I would be respected and that my artistic vision would be understood and supported.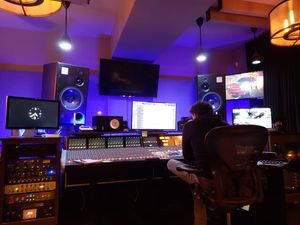 The recording process for drums, bass and guitar is really cool.  Everyone had heard the scratch recordings (just the simple, rough home recordings) ahead of time so they knew what the song was like.  All of us would talk through the various parts, each person bringing their own expertise and personality to the table.  Once we had a plan for each song, each musician headed to a different room in the studio.  I was set up with a keyboard and mic in the main room, and all of us were wired in to hear each other in our headphones.  This enabled Steve to record us all at the same time, but on separate tracks (rather than recording in one room and having the sound blend together on the same track).  It also gives the feel of playing live with the band, because that is exactly what we were doing!  It is amazing to me that this process could be so much fun, despite the fact that I was making music about such a heartbreaking thing.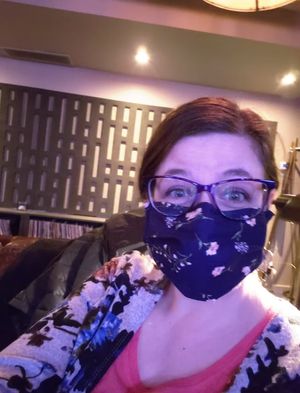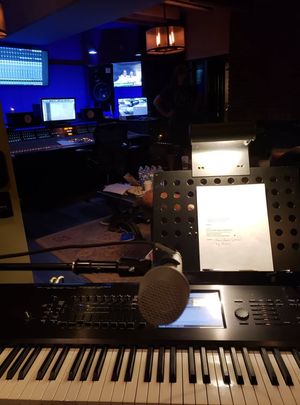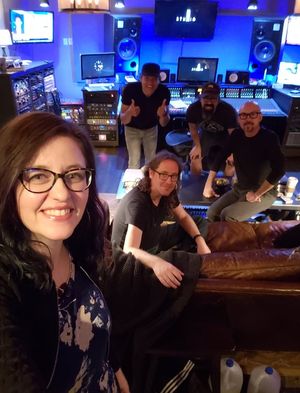 After that first day with everyone, we went back and re-recorded the piano on Steve's incredible Grand piano, as well as my vocals, and some additional guitar tracks.  We also brought in a cellist to play on a couple songs.  Between busy lives, crazy schedules, and of course Covid, this process ended up being a lot longer than I had initially thought it would be.  Once everything was recorded, Steve did his magic putting everything together.  I remember when he sent me the first completed song, "Impossible".  I was so excited to hear it, I put it on while I was driving from my day at school to my Chiropractor appointment and I just cried and cried.  I don't even know how to put into words what it feels like...to write something so personal, to have the chance to work with such a talented and professional team, and to finally hear the end result that is so much better than I had imagined.   Click here to listen to "Impossible"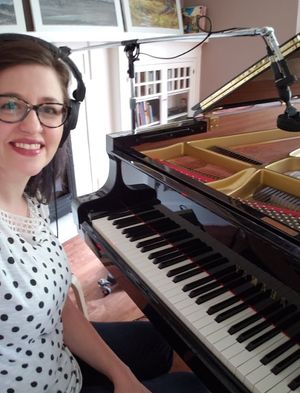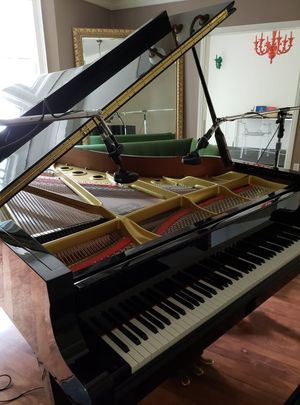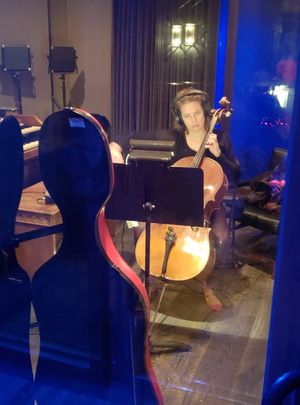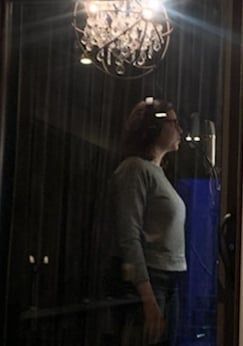 Once all the songs were complete I was able to pick a release date and bring all the little details together.  There are a lot of  behind the scenes things, like registering the songs, coordinating with a digital distributor to get the music on streaming platforms, creating cover art, etc.  To be honest, those tasks are not my favourite part of the process, but if I didn't do them then you would never hear my music!   
So, now you know the story.  It all feels a little surreal, to be at a point where I can look back at all that happened and not be completely undone by grief.  Sharing this story has been harder than I thought it would be.  When you write songs and release them into the world, you accept that people will hear what they want to hear and assign meaning through the lens of their own experience.  That is one of the coolest parts of being a songwriter.  But this process...wow.  I have opened up in ways I never really planned to or thought I could.   
Though I am sure I will never understand why Ben was taken from us, I do know that he was a gift to me.  He impacted my life in a huge way, both when he was still alive and even since his death. Despite all the tears, all the grief, and all the questioning God, I can honestly say I wouldn't trade meeting Ben for anything.  And if you were lucky enough to know him, I know you feel the same.