Ben and I had certainly grown apart and I was trying to let my heart move on.  There were still many lonely days and nights that I found myself thinking of him and wishing it could all work out.  We did still chat from time to time, but most of what I knew about what he was up to was from looking at his social media accounts.  We would go weeks without communicating, even though he was on my mind every single day.  After the failed relationship attempt months earlier, I had been halfheartedly continuing to search for my special someone on dating sites and only seemed to continue to add to my mountain of terrible dating stories.  Late in the spring, some friends wanted to set me up with someone and my attitude was "what have I got to lose?" so I agreed.   
As is often the case with making plans in real life, it took quite a while to actually connect with this guy.  In an age of lightning fast communication capabilities, we resorted to old fashioned conversations between friends and nervously awaited as they reported back to one another before we actually made contact.  During this fledgling communication, I got a bit of an out-of-the-blue text from Ben.  He was having a tough time and clearly needed someone to talk to and we ended up video chatting for a while.  It was just like it had been in the beginning.  We flirted, we laughed, we smiled at each other, we shared deep things, we were there for each other.  I didn't know that this would be the last time I would talk to him.  If I had known that, I would have said a lot more. 
I continued messaging with this new guy, and within a couple days he asked me out for coffee.  We met up and had a great first date (practically unheard of for me) and continued to see each other.  I confronted the relationship fears that had taken me by surprise a few months earlier and entered into what I thought was a healthy, mature relationship.  I wasn't head over heels, but my mind and heart were open and I was hopeful that this could be something real.  I hadn't mentioned this guy to Ben, and had to actively fight my innate urge to constantly compare the two of them.  They were completely and utterly different in almost every way, which in some ways helped me.  Things carried on with him.   
Back in the fall of 2018, before releasing my Christmas album I had participated in a local songwriters competition.  It was another one of those "why not" kind of situations.  I didn't know what to expect from it, so my hopes weren't very high.  I competed in one of six rounds of six singer-songwriters.  The top six would move on to a live final competition.  Local businesses had sponsored the event and the prizes were very worthwhile.  I was delighted (and rather shocked) to hear that I had advanced, and even more delighted to come in second place!  Those nights on stage were some of my favourites.  I walked away with some cash and gift cards, guitar repair, photography, and the best part….studio time.  Recording music in a professional studio is not cheap, and though 4 hours of studio time doesn't really take you that far, it was better than nothing!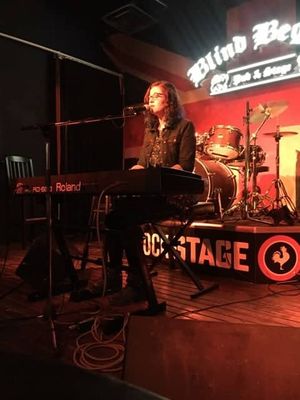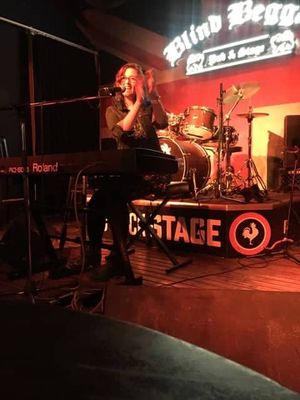 It did feel a little strange to go somewhere other than my usual studio where I had recorded both of my albums, but I knew it would be a great experience to work with a new producer and to let myself branch out a little.  It had taken some time to arrange just because of life - this producer was moving his studio, I had my busiest time of year at work, etc. so when it finally happened it was at the end of the school year.  I had gone in for pre-production at the beginning of June, one recording session in mid-June and was going back in to finish the song up at the beginning of July.  I was tired, having just finished school for the year, but excited to finish the song and try to get something going with music again.  I hadn't had great luck with my music since the Christmas season.  I had to cancel a gig in April, and the two small things I booked in June hadn't gone very well due to my struggles with anxiety.  I was ready to get back in the game, so to speak. 
Things had been going well in the studio with this song.  I felt comfortable and was pretty happy with how my song was coming together.  We had already recorded my piano and vocals during our first session, so this session was less laborious for me.  Basically we were making decisions about other instruments, which the producer was playing himself.  I hired a drummer who had come in and recorded another day.  I was just kind of watching and giving my opinion as Tony worked and edited and we chose specific pieces of whatever guitar or bass part he had just played.  My phone buzzed and I remember picking it up and absentmindedly looking at the message that had come in, but not fully reading it.  I was trying to stay in work mode and focus on finishing this song.  I was surprised to see a message from Ben's sister.  Though I didn't know her, I knew who she was of course.  She had sent me a message a number of months earlier, saying that Ben had told her to look up my music.  She had, and had written to tell me that she enjoyed it, which was such an encouragement.  As I glanced at my phone that day, I was certain that I was not reading the message correctly, so I put my phone down and planned to figure it out once I was done working on the song. 
With what I was certain had been a misunderstanding when I glanced at the message in the back of my mind, I finished the session and went out to my car.  I unlocked my phone and opened the message.  I read it.  I read it again.  I read it over and over and over, as if by rereading I could magically make the words rearrange themselves and give the message a different meaning.  No matter how many times I read the message, it stayed the same.  All the air was somehow sucked out of my car.  I was certain my heart had completely stopped beating.  Time was suspended.  In complete shock, I drove around the corner.  That was as far as I could make it.  I pulled over and opened the message again.  It was still there, still conveying the same horrific news I had read just a moment earlier.  There had been a car accident.  Ben was dead.